FOUR SEASONS ARIA Rollofill duvets for THREE-QUARTER BEDS Molina
Special Price
€158.00
Regular Price
€164.00
Duvets for three-quarter beds "FOUR SEASONS" - MOLINA
Item: ARIA
(MADE UP OF 2 DUVETS HAVING DIFFERENT WEIGHTS TO BE USED BOTH TOGETHER AND SEPARATELY, IT CAN BE USED ALL THE YEAR ROUND)
THE SET IS MADE UP OF TWO DUVETS TO BE USED ALL THE YEAR ROUND:
1 DUVET CM 200X200 LIGHT gr. 100mq 
                              +
1 DUVET CM 200X200 MEDIUM gr. 250mq
to be put together through the buttons during winter and to be used separately during mild seasons as stated below:
WINTER: TOGETHER
SPRING AND AUTUMN: MEDIUM
SUMMER: LIGHT
THROUGH A SINGLE ITEM YOU HAVE BLANKETS FOR ALL THE YEAR.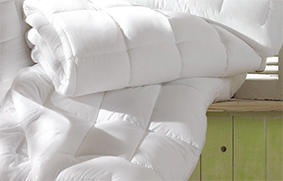 Microrollo®:Stuffing made up of heat-regulating microspheres; siliconed polyester microspheres.
Ideal for the skin
Long-lasting
Easy maintenance
This is an high-quality product made in Italy.
Fabric: 100% Cotton
Equipped with a comfortable cloth bag with handles to put it away when not used.
We found other products you might like!